Yummy Thai
4959 Broadway Ave, New York, NY 10034
Order now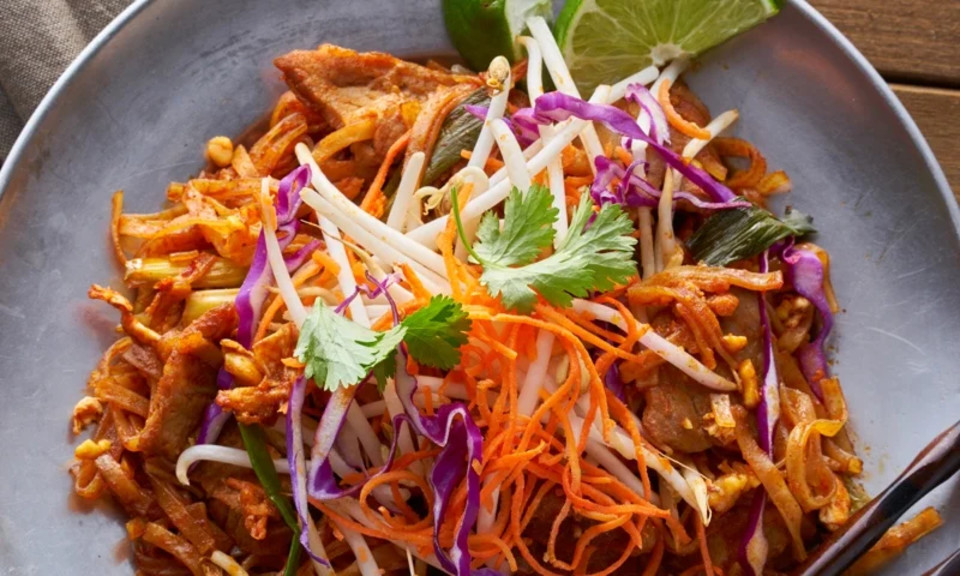 Kara
Yummy Thai totally lived up to its name! I was a little hesitant because I'd never ordered from them before, but they're one of the few Thai places that hasn't jacked up their delivery minimum to 15 bucks yet. (and please don't!) I ordered drunken noodles with tofu. The tofu was perfectly fried, and the noodle plenty flavorful. My only wish is that the serving was slightly bigger. But still, so yummy! Will definitely order again. :-)
Ren
The best pad se ew and red curry Ive had in a while. Wish the red curry had eggplant. Otherwise it was perfect. Good level of spice and not viscous or thick. The delivery man was very nice and it came super fast (0.6 distance) and still warm even though its freezing out.
Safiyya
I order from this restaurant about once a week. Their food is so delicious, always consistent, and the delivery time is pretty quick! Plus, I love ordering thai iced twa to go with my meal. You will not be disappointed ordering meals from this restaurant# :)
Jane
Excellent, tasteful seasonings, good portions, vegetarian options. Food arrived hot and fresh. TotL. oat compared with meals elsewhere, only we have tasty leftovers. We did order more than entrees and recommend ordering a third dish or soup or appetizers.
katherine
AMAZING * SUPER FAST * FANTASTIC recommendations? pad Thai, duck with tangerine sauce, bean curd (all), Thai tea with milk, salad, Jazmin rice, fried ice cream ... NO NEED TO LOOK FURTHER ( variety , party of taste buds & good quantity )
carol
Stick to the basics and you can't go wrong. The Green Curry with shrimp or mixed vegetables, Pad Thai, Spring Rolls, classic soups, are always good. Once tried something else, something like fusion and was not happy -- but then, I'm not a fusion kind of person, so I can't tell you if it was them or me. Also, the fried banana desserts are delicious, perfectly done.
Meredith
We are new to Washington Heights and tried a few Thai places before this one. This was the best so far. The food was excellent. They followed our specific instructions. They had the best curry puffs I've ever had. The ingredients were super fresh and the delivery came earlier than anticipated. We ate every bite, no leftovers! Highly recommend!
Rachel
I love Yummy Thai. They always deliver pretty quickly and let us know as early as possible if they are out of an ingredient. My daughter and I have been eating there or ordering delivery from them for a couple years now,and it's one of our favorite places in the neighborhood.
Richard
I've ordered from Yummy Thai many many times. It's always good, always hot and always on time. Only once out of many many orders did they ever have anything wrong with my order, and it was such a small issue it barely counts. Good food, and I'm lucky they're so close.
DISNAYRA
I love Yummy Thai! I usually get the basil fried rice and the spring rolls or the thai dumplings. Always sooo delicious! It never disappoints. Those dumplings are amazing! I highly recommend. The delivery is also on time. Keep up the good work!
About us
Asian, Dinner, Healthy, Lunch Specials, Noodles, Thai
Today

Delivery: 11:55 AM - 9:45 PM

Takeout: 11:00 AM - 9:45 PM

Delivery

Monday:

11:55 AM - 9:45 PM

Tuesday:

11:55 AM - 9:45 PM

Wednesday:

11:55 AM - 9:45 PM

Thursday:

11:55 AM - 9:45 PM

Friday:

11:55 AM - 9:45 PM

Saturday:

11:55 AM - 9:45 PM

Sunday:

12:30 PM - 9:45 PM

Takeout

Monday:

11:00 AM - 9:45 PM

Tuesday:

11:00 AM - 9:45 PM

Wednesday:

11:00 AM - 9:45 PM

Thursday:

11:00 AM - 9:45 PM

Friday:

11:00 AM - 9:45 PM

Saturday:

11:00 AM - 9:45 PM

Sunday:

11:00 AM - 9:45 PM
Yummy Thai knows how to keep its hungry and loyal customers satisfied. Order today to experience fresh cuisine and authentic Thai flavors that keep diners coming back for more. We look forward to seeing you soon!